Go Climb A Mountain is blog, picture gallery, guiding, courses and much more. We, Alix von Melle and Luis Stitzinger, are passionate mountaineers. On these pages you will learn more about us and this sport that has captivated us. The slogan of the legendary Yosemite Mountaineering School "Go Climb A Rock" inspires us to name our project after what is our favorite pastime, most exhilarating sport and passion, and to share it with others:
Go Climb A Mountain – Gemma Bergsteig´n!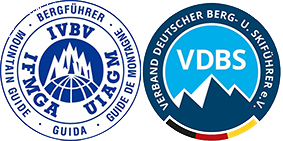 Alix von Melle and Luis Stitzinger have been among the most active German expedition mountaineering pairs for years. At nine eight-thousanders, they were already traveling together, with six of them, they have successfully stood on the summit. Much longer is the list of the six- and seven-thousanders in their tour book. Alix, spokeswoman for Globetrotter Ausrüstung in Munich, is currently the most successful high altitude mountaineer in Germany. Luis, who works as a professional mountain guide and expedition leader for Amical alpin, is one of the most successful "big mountain skiers" on the scene with his ski tours on several eight-thousanders. Every year they travel several times together on the mountains of the world. Each of them has its own qualities and ambitions, so often come on the same journey several different projects. Despite the time and money spent on their sport, they have "stayed true to their craft," cultivating a down-to-earth lifestyle. That is exactly what makes their activities so comprehensible.